NOW AVAILABLE
A triumphant union of textiles, technology and tile
Working hand in hand, Annie Selke and The Tile Shop have translated the tactile quality of fabrics into tile,
bringing a new and exciting beauty and depth to household surfaces.
An exclusive assortment of more than 200 tiles, the Annie Selke + The Tile Shop collection happily coordinates
with Annie Selke textiles, allowing you to decorate with complementary colors and coordinating designs in even more areas of your home.
The Tile Shop + Annie Selke Collaboration
To celebrate the collection and introduce it to the design community,
The Tile Shop and Annie Selke hosted a launch party in October in the fashion capital
of the country, New York City. There, influencers, media and special guests previewed the
collection and mingled with both teams to hear firsthand about what inspired the designs.
Learn more about the collection preview event on our blog.
ANNIE SELKE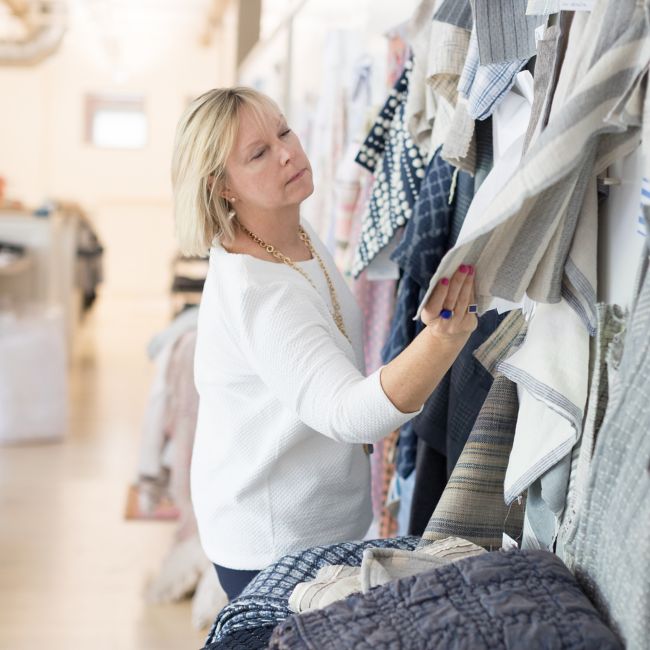 ANNIE SELKE
Color, comfort and approachable elegance—these are the hallmarks of visionary designer Annie Selke. For almost 25 years, Annie Selke has offered quality Dash & Albert rugs, including the ever-popular indoor/outdoor rugs and luxurious Pine Cone Hill sheets and bedding. A consummate traveler and flea market treasure hunter, Annie gathers inspiration wherever she goes and distills it into fabulous and functional products for the home.
annieselke.com >
Textiles come to life in the new collection by Annie Selke for The Tile Shop.
Experience the collection in person.