Free Design Services
Everyone deserves the luxury of beautiful design. We're here to take the intimidation out of the equation by partnering with you every step of the way. Not sure where to start? Make a free appointment to talk about your project, either in the store or with a remote consultation, anytime. We're always happy to help and get the conversation started.
Questions? Call customer service at 888-398-6595, fill out a contact form to send an email, or send a live chat message.
LET'S GET STARTED!
We have the largest selection of tile in America, so there's a product for every project. But don't worry—we'll help make sense of it all. From inspiration to installation, let's work together to make your design dreams reality. Every conversation and project is unique but here's how we like to approach the process from beginning to end.
FIRST THINGS FIRST
FIRST THINGS FIRST
Whether we meet in person or on the phone, we'll discuss your space, your style and what you envision for your project. Don't forget to share your inspiration! Not sure what you like? We can give you a store tour or send photos to explore our 50+ tiled vignettes featuring different styles from traditional to contemporary to modern farmhouse.
LET'S TALK TILE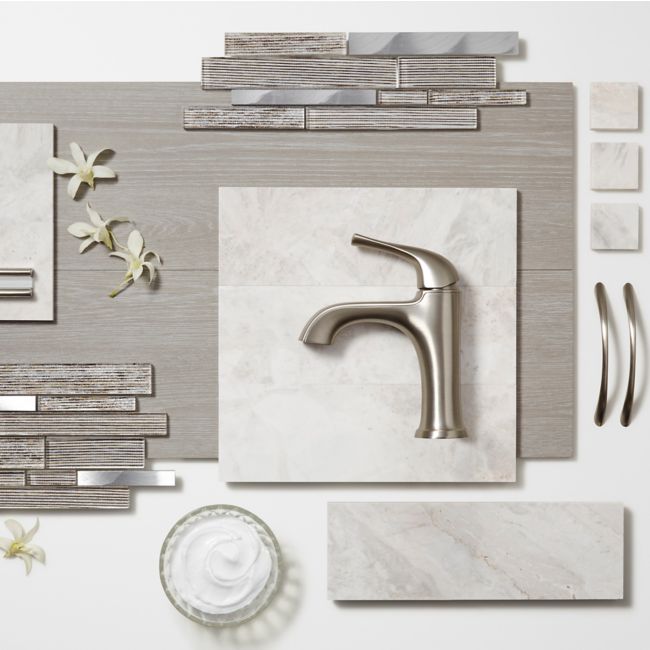 LET'S TALK TILE
Here's the fun part—talking about what tiles you love! You'll want to consider the material, shape, size, finish, grout and more. Feel free to browse our selections or request sample photos, ask questions and let us know how we can help you find something that works in your space. It's all about designing a unique top-to-bottom look you love.
NEW SPACE, NEW YOU
NEW SPACE, NEW YOU
Our design services take the guesswork out of tiling. We'll even help find the right professional for the job because that's important when you're investing in the future and value of your home. Now's the part where you pat yourself on the back and enjoy the work you put into making your space, however small, really feel like home. You did it!
MEET A TILE SHOP DESIGNER, SHARI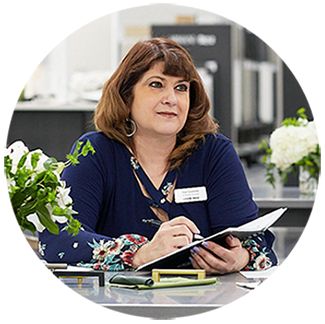 "What I like most about my job is that I'm helping make customers' dreams reality.
I love hearing from happy people I've helped, and knowing I had a hand in creating a part of their home they will enjoy for years."
—Shari Goodchild, Plymouth, MN
We're Here To Help
Any project, any design—we'll make it beautiful together. Book a free one-on-one design appointment, or stop into The Tile Shop anytime for an impromptu chat, and get started today.
Questions
Call customer service at 888-398-6595, fill out a contact form to send an email or send a live chat message.
Our Services
Learn all the ways we can help make your project a reality.
FIND A STORE >