{95E993AC-B3F2-4046-8A9C-76715A8260E1}
Kitchen Floor Tile
Installing tile on your kitchen floors is always a smart, stylish decision. Its easy-to-clean and durable nature means that it's well suited to stand up to spills, messes and heavy foot traffic. Learn about the materials, patterns and sizes available that can make your kitchen flooring both functional and fashionable.
Design Ideas
FAQs
Floor
Give Your Kitchen a Fresh Look with Floor Tile
Your kitchen is a room where people will gather every day, so choosing flooring material is one of the most important design decisions you will make. With a rich array of colors, styles and finishes to choose from, it's easier than you think to transform a dated kitchen into an inviting room that draws your family and friends together. Renew your kitchen decor with a long lasting foundation by incorporating the beauty and durability of ceramic and porcelain floor tile. Slate and tumbled natural stone tiles are also perfect for fitting in with any kitchen decor, offering a timeless look with many different styles that are easy to clean and maintain. Set the tone in your kitchen by installing a tile floor that will create a beautiful, welcoming vibe.
Color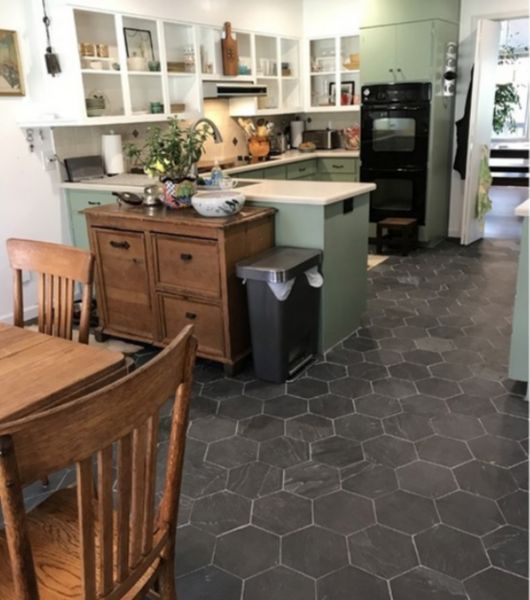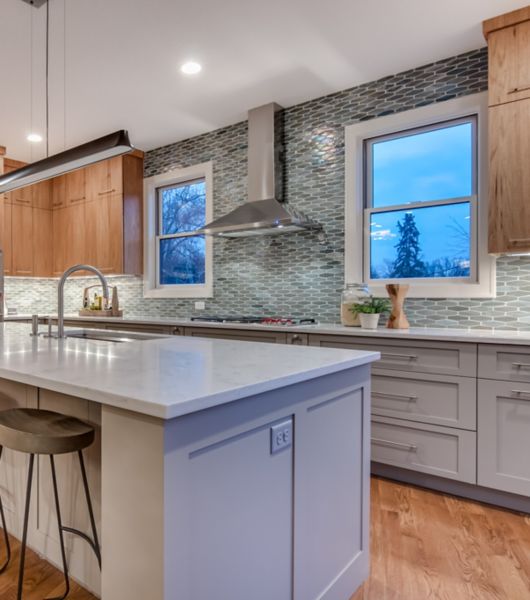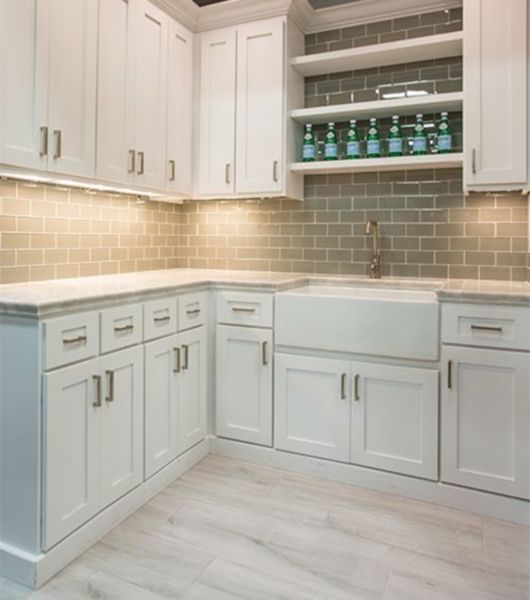 The variety of colors available at The Tile Shop means that you're sure to find a hue that will work in your space. Choose from grey, white, black, brown, blue, red, green and more. Whether you're looking for traditional black and white, rustic natural stone or authentic wood-look tile, the color possibilities are endless.
Ask the Tile Experts
Due to its cost effectiveness and easy maintenance, most of our tile is very well suited for kitchen floor installation. While our selection of ceramic and porcelain tile is popular because of the number of colors, shapes, sizes, finishes and textures that are available, The Tile Shop offers kitchen tile in a wide variety of materials that will work in your home. Based on style and maintenance, the best tile for you is the one that fits your needs and lifestyle.

The strength and durability are the biggest advantages that wood-look tile has over hardwood flooring, especially in the kitchen. It won't scratch or need refinishing like a hardwood floor. If you want the appearance of natural wood with the durability and easy-to-clean quality of ceramic tile, we offer a variety of wood-look tile options that can create the very same style.

Tile is ideal for high-traffic areas like your kitchen because it is very durable. Porcelain and ceramic tile are hard, resilient materials that are great choices. Natural stone like marble, travertine and slate also offer phenomenal durability.

Make sure you choose a non-acidic, antibacterial cleaner for both man-made and natural stone tiles. The Tile Shop offers ceramic and porcelain and natural stone cleaners.

Learn about current trends and kitchen tile design ideas here.

It depends on the material. Pet owners love The Tile Shop's porcelain and ceramic floor tiles because they stand up against scratches. A softer marble or slate may not be the best choices for homes with pets because they have the potential to scratch.

With the variety of finishes and colors available, you never need to worry about finding something to coordinate with your kitchen cabinets and counters. Schedule a design consultation with a senior design associate, and make sure to bring in photos of your current space, your fixtures (such as countertop and cabinet samples or swatches) and any inspiration you have to get expert advice on matching.

If you have white cabinets, you have a blank slate and almost limitless options for your flooring. You can choose to complement or contrast your cabinets with your tile flooring or channel a particular design style, like modern farmhouse or transitional. The design possibilities are endless, so explore our website or head in to The Tile Shop to plan your project today.