{FC1B590D-D036-4537-8505-F54A823AB913}
Fireplace Wall Surround Tile
Installing a striking tile design around your fireplace is a great way to establish it as a focal point in your living room. Available in stone, marble, glass, slate, ceramic and more, our tile materials offer a durable, heat-resistant surface that also adds style to your fireplace surrounds, mantels, back panels and hearths.
Design Ideas
FAQs
Wall Surround
Explore Tile for Your Fireplace Surround
The sheer variety of tile options available for your fireplace area means you can find a material that will both make a statement and fit with your unique personal style. Create a sleek, modern feel with a monochromatic design and subtle contemporary patterns. Achieve an antique look by installing encaustic cement tile, establish a classic mood with natural stone or add luxurious elegance with marble. From Victorian to vintage, our expert store associates can help you set the tone with a fashionable, long-lasting tile design that will make your fireplace wall stand out for years to come.
Color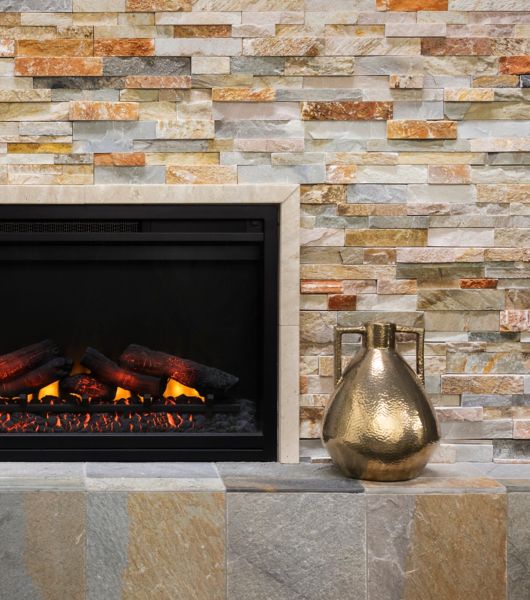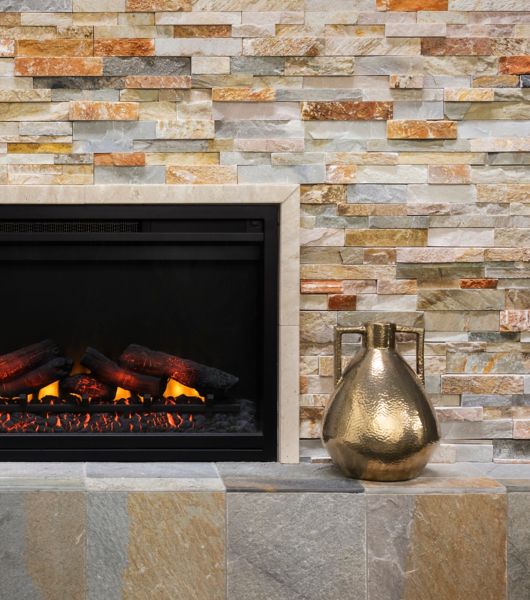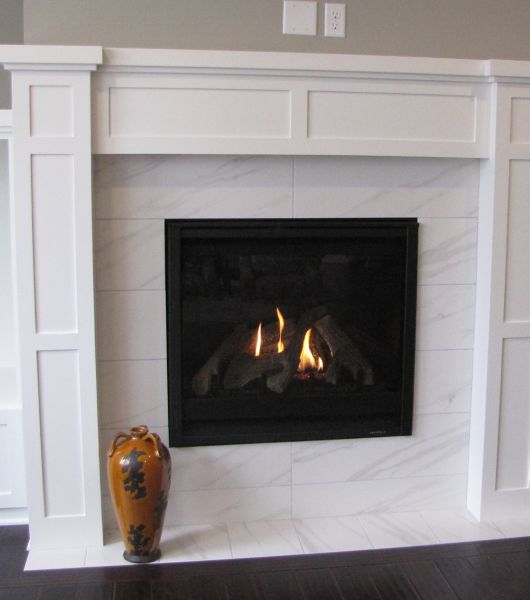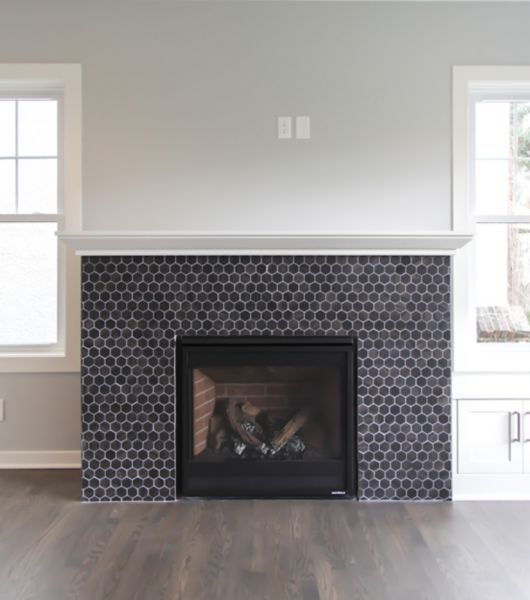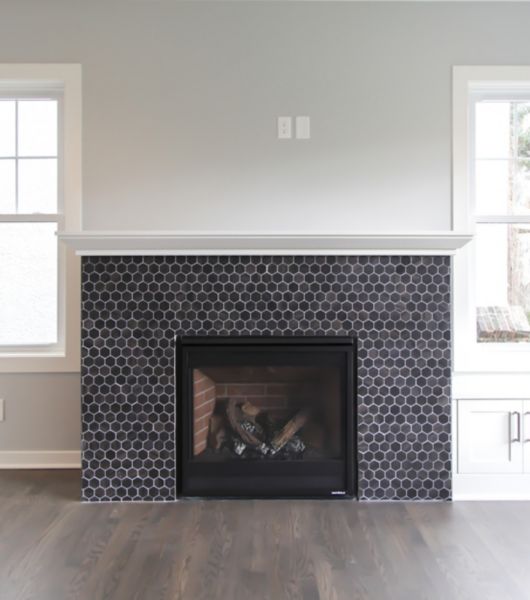 It's important to consider how the color of your fireplace tile will affect your room's existing palette. Do you want it to fit seamlessly with the color scheme you already have? Or act as a vibrant splash of color that really pops? Your fireplace surround is the rare instance where the color possibilities are nearly endless. Choose from traditional whites, blacks and greys, neutral colors of natural stone, or bold hues of blues, greens and reds.
Trends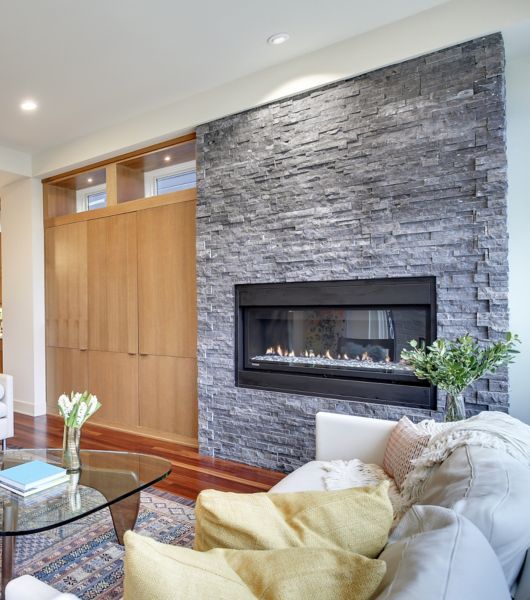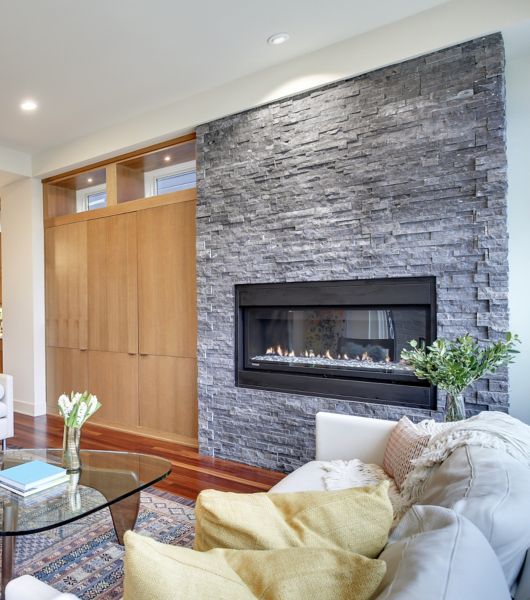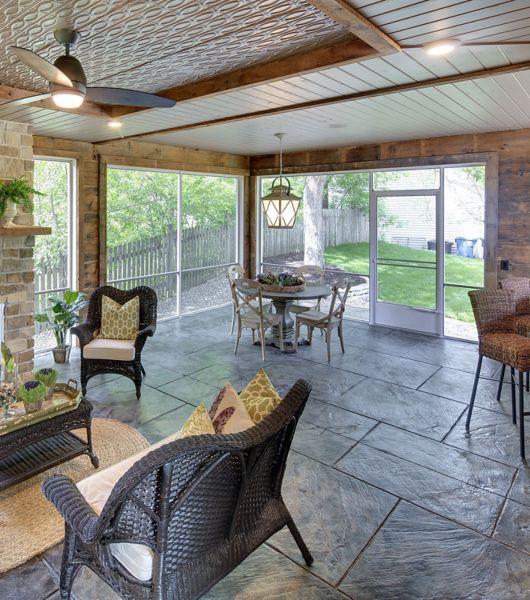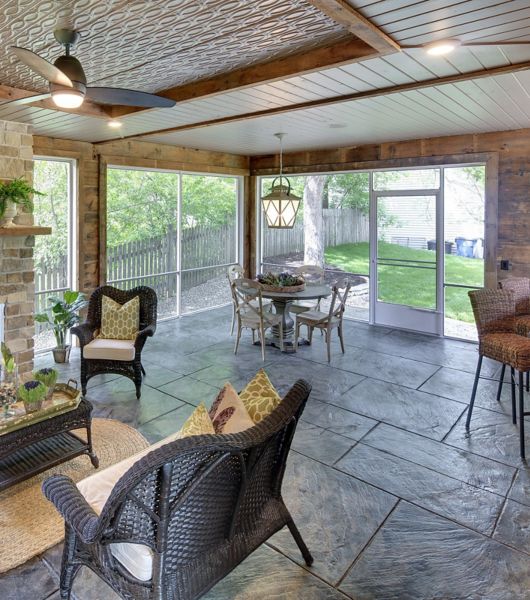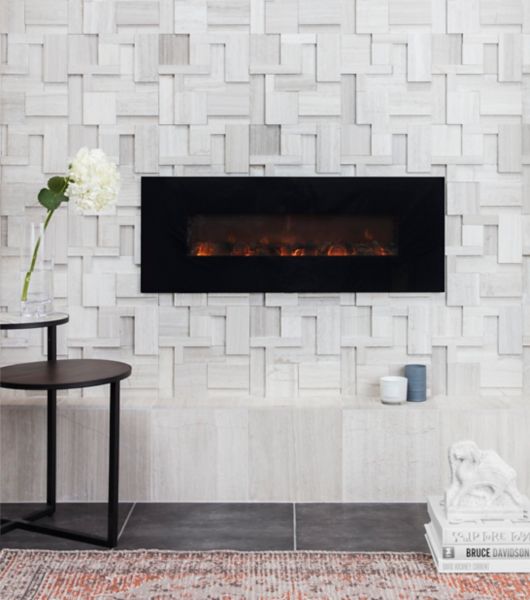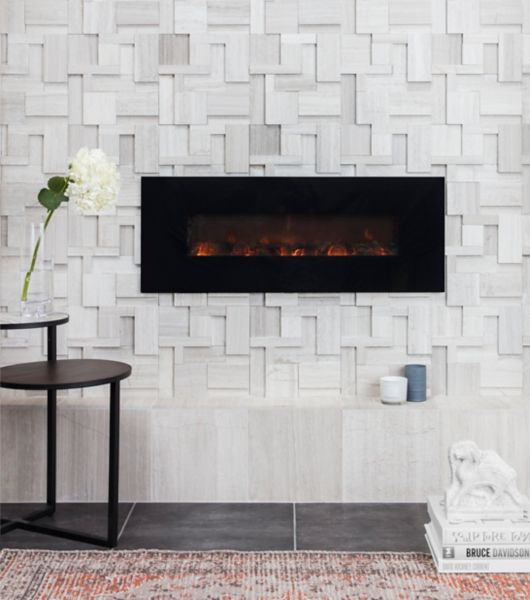 Your fireplace is where you can emphasize the distinct look and feel of your room. If you're aiming for modern style, focus on simplicity and clean, straight lines. Materials that work well in contemporary design include marble, black granite and porcelain. For a rustic feel, wood-look tile or natural stone with a slate or pebble texture can establish a comfortable atmosphere. Whether you have a gas or a traditional fireplace, there is a decorative tile solution that can add a stylish tone to your decor.
Material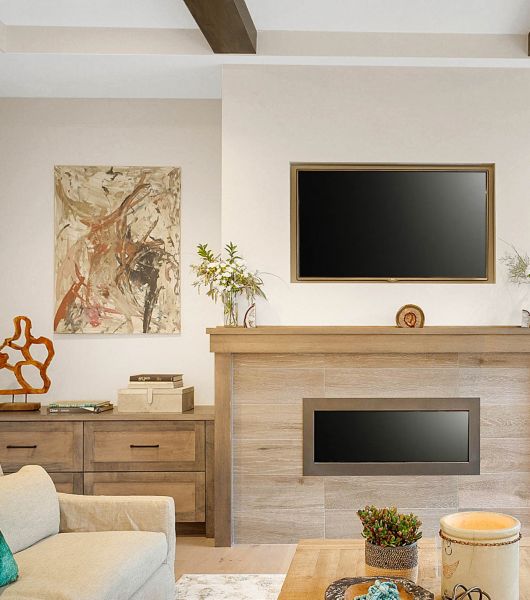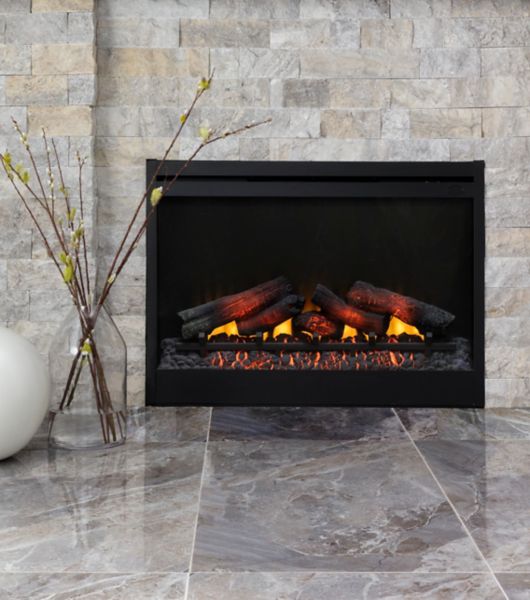 There are a multitude of tile materials that work well as fireplace surrounds: porcelain, ceramic, glass, marble and natural stone like travertine, limestone and slate. If you live an older home, consider installing tile over brick fireplaces create a dramatic new look. Tile is a very durable and easy-to-clean surface that is also completely fire-safe, meaning you won't have the flammability worries that you might find with other materials.
Ask the Tile Experts
Yes. Tile is an excellent choice for the face of your fireplace, but not inside it. Its highly durable nature means it can handle the heat and it's very easy to clean and maintain.

All tile is heat resistant, but always check with your sales associate to confirm that your tile can go around the fireplace. Natural stone materials like travertine, slate, limestone and marble are all popular choices, as are ceramic, glass and porcelain.

The variety of tile materials available these days means that there are plenty of suitable options for your fireplace, whether it's indoor, outdoor, wood burning or gas. You can add a glass mosaic design to your traditional fireplace or surround your gas fireplace with rustic natural stone.

Maintain the beauty of your fireplace by cleaning your natural stone, ceramic and porcelain fireplace tiles with one of The Tile Shop's cleaners that won't damage your surface.

The area above and around your fireplace is considered the surround. The back panel lies flat against the wall, your mantel is a shelf above the fireplace and the hearth is a panel at the foot of the fireplace.

The cost of your fireplace surround will vary based on the material and amount of tile that you decide to install. The variety of materials available means that there is a tile for every budget.

No. Usually you want to remove your old façade and get to a flat wall before tiling, so it shouldn't matter which year it was built. There are some instances where you can tile over tile, but everyone's fireplace is a little different. Speak with an expert sales associate so they can walk you through the installation process.

All porcelain and ceramic tile is fired in a kiln at high temperatures to produce the body of tile but also its beautiful glaze. This process produces a heat-resistant tile, however there are different decorative elements added afterwards, so check with your sales associate to ensure that your specific tile is suited for your fireplace. Since the beginning of time, natural stone has been produced with heat and pressure from the Earth. This process makes tile resistant to heat, but there are certain stones that are softer than others or use epoxy or fill to make the stone stronger—these can reduce a natural stone's resistance to heat. To be completely sure, just check with your sales associate to confirm your tile can withstand the heat that your fireplace will be producing.