{646522C6-1EBA-4EF3-A60F-8BBE61676405}
Glass Mosaic Tile
Brighten up the feel of any room with a striking glass mosaic tile design. The Tile Shop offers a large selection of vibrant colors, appealing finishes and distinct shapes that will make a stylish statement on your floors or walls.
Design Ideas
FAQs
Mosaic
Color and Style with Glass Mosaics
Available in a variety of iridescent, pearlescent and reflective styles, glass mosaic tiles are an effective way to add dramatic luster to your room's decor. Popular in backsplashes, kitchens and bathrooms, glass surfaces beautifully reflect light to make your space feel larger and more welcoming. Choose from a multitude of colors, shapes and patterns to add a fun border design or create an eye-catching focal point. Durable, water resistant and easy to wipe clean, glass mosaics are a smart installation in bathrooms, kitchens and even your swimming pool area. Adding a glass mosaic design is a great opportunity to let your creativity shine. Check out the latest styles at your nearest The Tile Shop where our expert store associates can walk you through installing glass mosaics in your home.
Shape & Size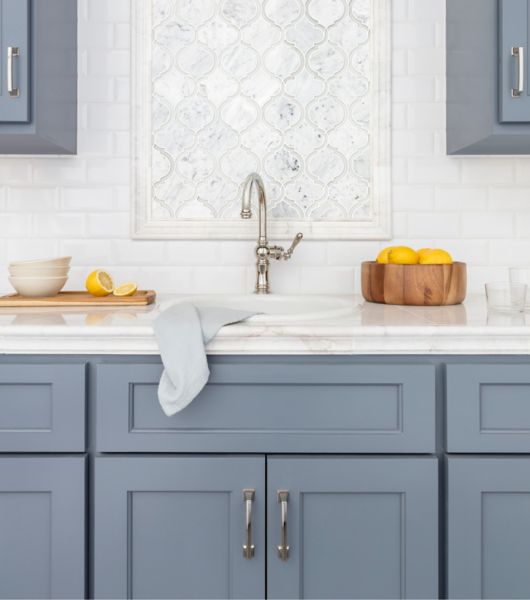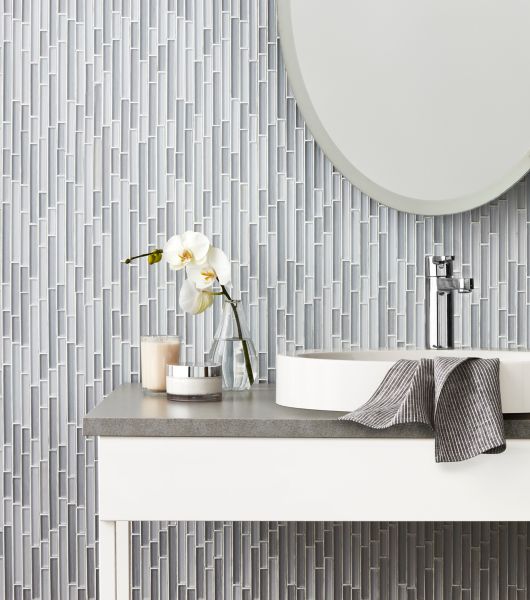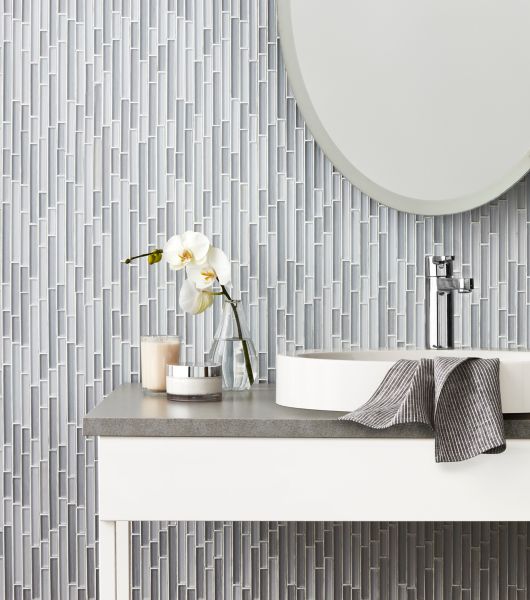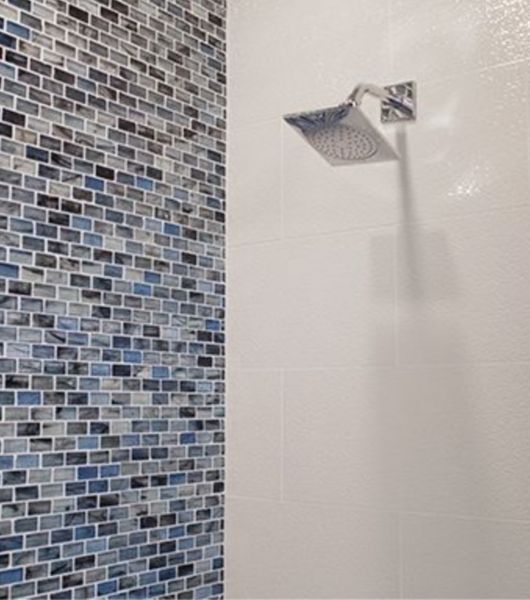 In addition to shapes like rectangular, square and penny round, we offer dozens of mosaic tile pattern styles, like chevron, Amalfi, Stria, Athens and Cardine, that can turn your backsplash or walls into a work of art. Popular sizes of individual mosaic tiles include half-inch and 1" x 1" square tiles as well as 1" x 2" and 1" x 4" rectangles. Most of these mosaics are on a 12" x 12" fiberglass mesh sheet for easy installation.
Ask the Tile Experts
A glass paste or glaze is fired in a high-temperature furnace then ladled onto a tile press or rolled into a sheet. Once cooled, the tile forms are cut by hand and sorted. Mosaic patterns are assembled from small pieces of glass (and sometimes stone and metal) to create a unique design.

Glass mosaic tile is an effective way to add a pop of color and reflection to walls and backsplashes in any space in your home. Popular areas include:

Kitchen
Bathroom
Shower
Laundry room
Pool area

Yes, some glass mosaics work well as shower floors due to their durability. The larger number of grout lines can add some increased traction, but be sure to check with our store associates to confirm your tile is suitable for floor installation. Depending on how it is made, glass may or may not be suitable for floor use. It all depends on the size of the glass tiles and the pitch of the shower floor.

Glass tile is resistant to stains and very easy to clean. We recommend using Grout & Tile Neutral Cleaner from Superior Adhesives & Chemicals.

Yes, glass tile is very durable.

If you are installing an all-glass mosaic, only Pro-Lastic and epoxy should be used.

We always recommend applying grout to your tile installation.

Use unsanded grout or epoxy only because sand will scratch the glass.

Glass tiles are usually grouted with white grout, so the true color of the glass is seen. Using a color other than white will make the color of the glass tile look different.