{DC3D6235-4FF3-49FF-8DD8-E3BFBBD8ED3B}
Floor Tile
In bathrooms, kitchens, laundry rooms, entryways and more, tile is one of the most functional, beautiful and versatile flooring choices. It can stand up to the wear and tear of everyday life, spills, dirt and all. Yet, tile is also an aesthetically stunning flooring choice, with options including high-end marble, European-style encaustics and intricate mosaics.
FAQs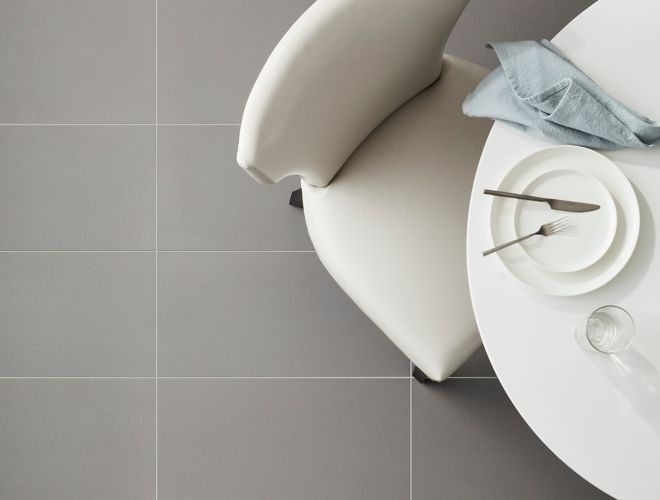 Floor
Why Floor Tile?
Whether it's an entryway, a mudroom or a busy family kitchen, floors throughout the home take a beating. That's why it's so important to have a floor that is durable and can take whatever your family throws at it. But since it's going to last a long time, it also has to be beautiful. A tile floor will achieve both of these goals while reflecting your personal style. Since there are so many options, The Tile Shop's experts can help you decide what material is the best for your family's lifestyle.
Ask The Tile Experts
The selection of materials, difference in room sizes and other options available for floor tile mean that costs vary widely from project to project. While it will sometimes be a larger initial cost, a tile floor lasts longer and wears better than many other flooring types, like carpet or wood, which means it's a better long-term investment. Tile floors also have a high resale value, which is important to consider if there's a chance you'll be moving in the future. The best way to estimate the cost of your project is to schedule a design consultation with an in-store associate that will guide you along the process. Whatever your project goals are, The Tile Shop has a way to achieve them.

The Tile Shop has a large variety of options, each with different properties and styles available.

Marble: a high-end, durable tile that comes in almost every color and many finishes
Encaustic Cement: usually boldly decorated, these tiles replicate old-world styles with modern colors
Wood Look: made of ceramic or porcelain, wood-look tiles are very popular for their look and durability
Porcelain: this dense and most durable tile is made from heating refined clay
Travertine/Limestone: a type of limestone, travertine has unique patterns depending on the minerals present when it was formed
Ceramic: a man-made, clay-and-mineral tile, ceramic come in a large selection of shapes and styles
Pebbles & Stone: channel the outdoors with the natural beauty and individuality of pebbles
Slate: this richly colored rock tile can be used both indoors and outdoors
Quartzite: suited to both commercial and business uses, quartzite is a rock that comes in different colors and textures

The best tile is a personal preference based on how much maintenance you want to do, where it's being used and what style you prefer. Given the right care, all tiles are durable, but you might want different things from yours, like a non-slip surface. The most durable is generally porcelain floor tile because it contains more refined clay heated to a higher temperature, creating a very dense tile.

Squares
Rectangles
Planks
Cobblestone Look
Hexagon Mosaics
Woven-Look Mosaics
Diamond Mosaics
Chevron Mosaics
Herringbone Mosaics
Hexagons
And more!

Certain tiles have pattern restrictions because of their shape, so first schedule a design consultation at The Tile Shop to talk to a store associate about your specific tile. But generally, you can arrange your tile in any of a variety of patterns. Try playing around with different patterns before you commit to anything to see what you like and how a different arrangement can change the look of your floor. Some shapes, like mosaics, restrict how your tiles can be arranged, but shapes like rectangles have lots of different options. You'd be surprised to see how simply installing your tile at a different angle makes a big difference.

Absolutely. There is no rule that wall and backsplash tile need to match what's on the floor. If you are opting for a statement tile, we recommend choosing that first and then coordinating the others with that tile. But don't worry—coordinating does not mean it has to match.

Subway tile is a popular choice for backsplashes and walls, so this is something many people want to know. There is no one correct answer. This decision is all about whether you want to coordinate or contrast your wall and floor tiles. You can mimic the subway tile's shape on the floor with large-format rectangular tiles, or you can opt for something completely different, like large squares or tiny hexagons, to contrast with the walls. The same goes for the color of your floor tile. Make the decision to either coordinate or contrast, and you can't go wrong. If you are struggling with what to pair with your subway tile, make a design consultation at The Tile Shop, and a store associate will be happy to help.

One thing to consider is the size of your room. Large-format tiles may not look proportional in a small room and vice versa. You may also want to consider the size of the tiles on your wall. Using a different size tile on the floor creates contrast and interest versus having similarly sized tile on both the floors and walls. The number of tiles you'll need to buy and the ease of placing them around obstacles in the room are also factors.

Any floor tile can also be used on walls. Refer to the specifics for each tile to determine if it can be used in the shower. The Tile Shop sells hundreds of shower tiles so there's no shortage of options.

We recommend using a non-acidic, antibacterial cleaner for both man-made and stone tiles. The Tile Shop's Grout and Tile Neutral Cleaner or Antibacterial Cleaner are both good options for most tiles. If your tile needs deep cleaning, contact your nearest The Tile Shop to learn what cleaners will work best for your needs.

You should always seal your grout so it does not absorb anything that might be spilled. If you regularly maintain your grout, there should be no problem keeping it clean. The Tile Shop's Grout and Tile Neutral Cleaner and Antibacterial Cleaner are safe to use on grout for regular cleaning.

We don't recommend tiling without using grout. This can cause tiles to rub against each other and crack or chip, leading to an installation that does not last as long as it should.

We always recommend sealing grout to protect it. Natural stone floor tiles should be sealed, but most ceramic and porcelain tiles do not sealing. Always check with The Tile Shop to be sure before you install.

The Tile Shop never recommends installing tile over another surface. Always start your tiling project on a clean, empty, level floor.