{C59CF120-E649-422F-A44D-1DDCF22645C0}
Backsplash Tile
Choosing the tile for your backsplash is one of the best parts of redecorating. Why? Since it generally covers a much smaller area than your main wall or floor tile, you can feel free to have more fun with it. That means that incorporating pops of color, a unique material or an interesting shape is less risky. Whether you opt for a detailed mosaic or a classic subway tile, you'll find something you love from our hundreds of options. For more detailed backsplash tile ideas, visit our inspiration page.
Design Ideas
FAQs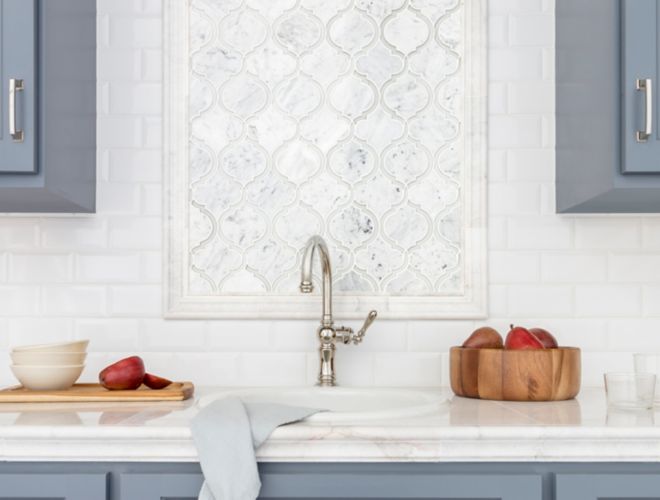 Backsplash
Add Style Elements or A Pop of Color with Backsplash Tiles
Updating and modernizing your home can be as easy as updating your kitchen's backsplash. It allows you to add a pop of color, a distinct shape or a stand-out pattern to your room—and it's one of the quicker and easier tiling projects to take on yourself. Plus, there's so much more than classic white subway tile. Explore the multitude of options below.
Color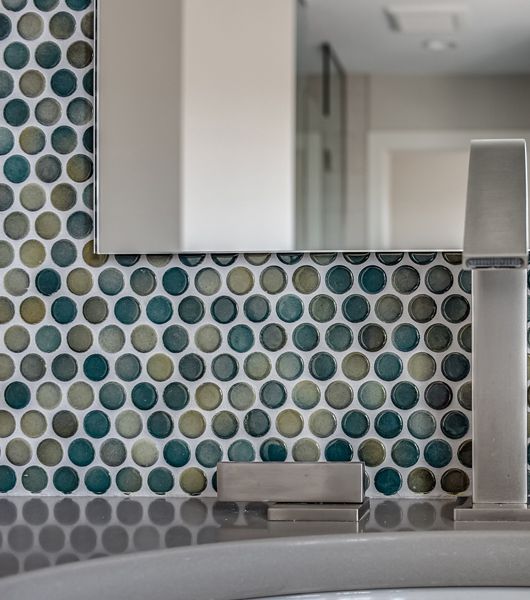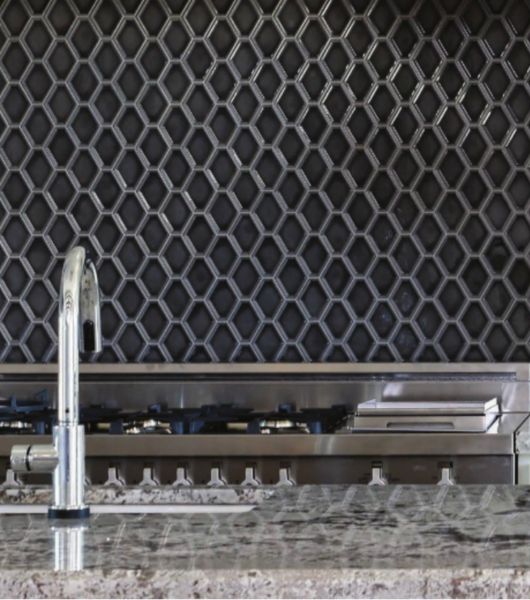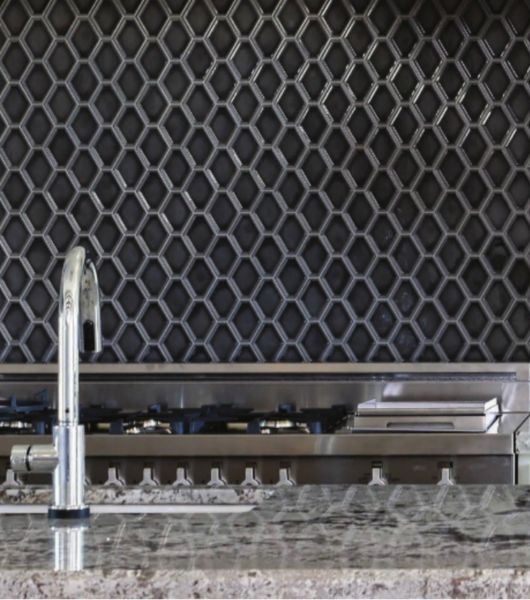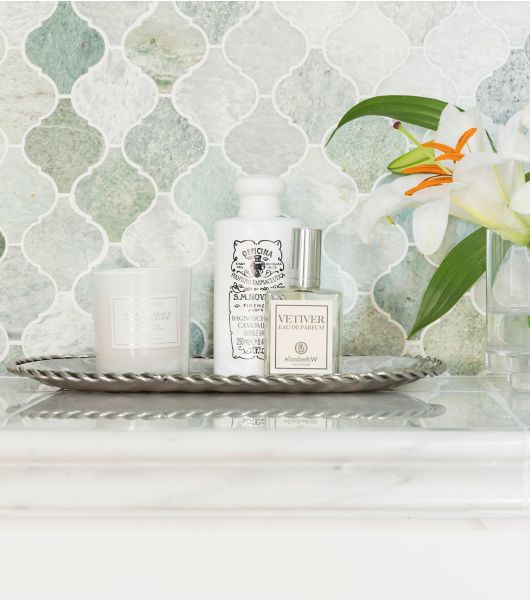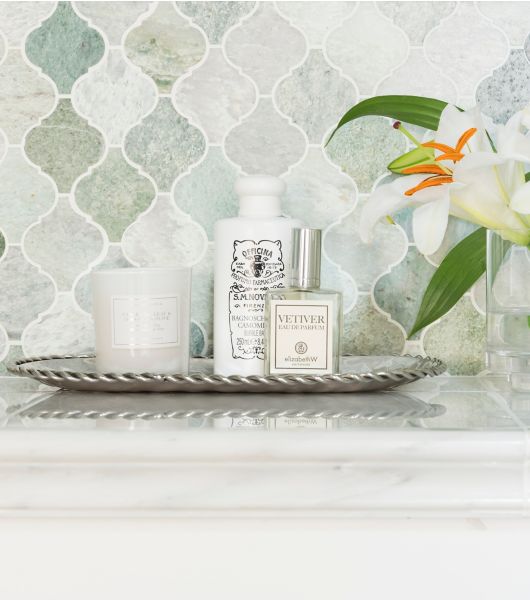 We're all for classic, white tile backsplashes, but it's also the perfect opportunity to take a little risk (and have a little fun). Go for dramatic contrast to light cabinets with bold, dark backsplash tile, or brighten up a dark room with an unexpected pop of color. Can't pick just one? A colorful mosaic has the best of all worlds.
Shape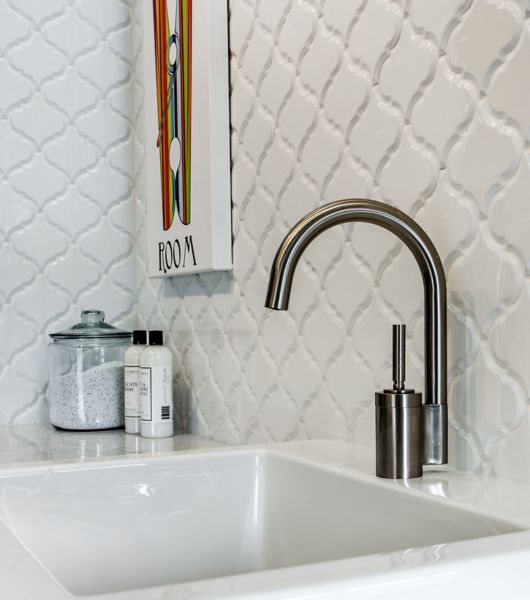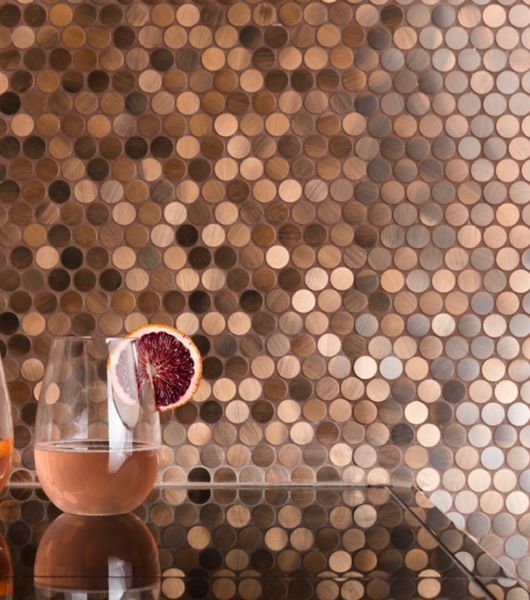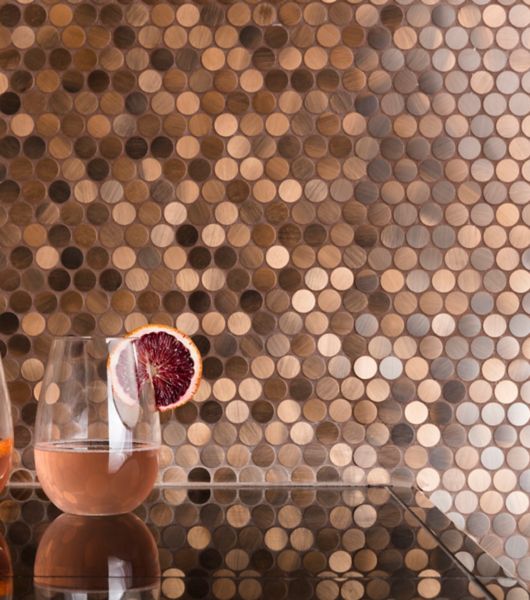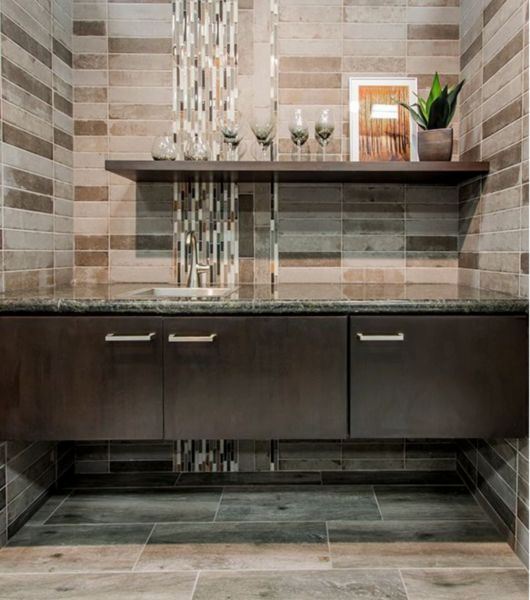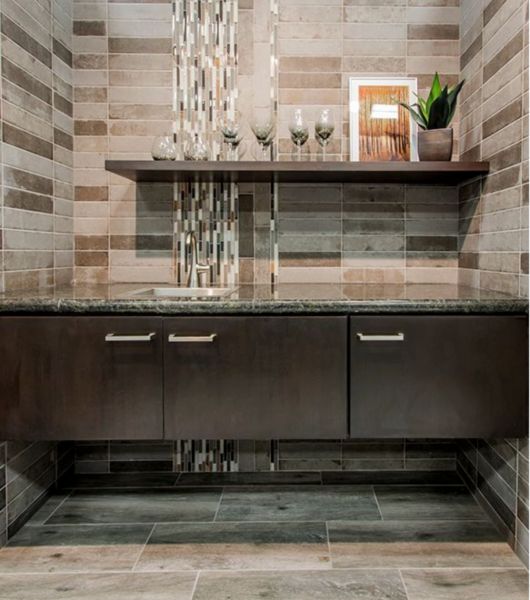 So, you've chosen a color; now what shape will you use? If you've opted for a neutral color, using a unique shape is a great way to add some interest to your room. There are more possibilities than you may have realized: rectangular subway tiles, arabesques, penny rounds, squares, hexagons and even natural pebbles (we're not sure what that shape is called!). But don't worry—they all make beautiful backsplashes, and it's just a matter of preference.
Material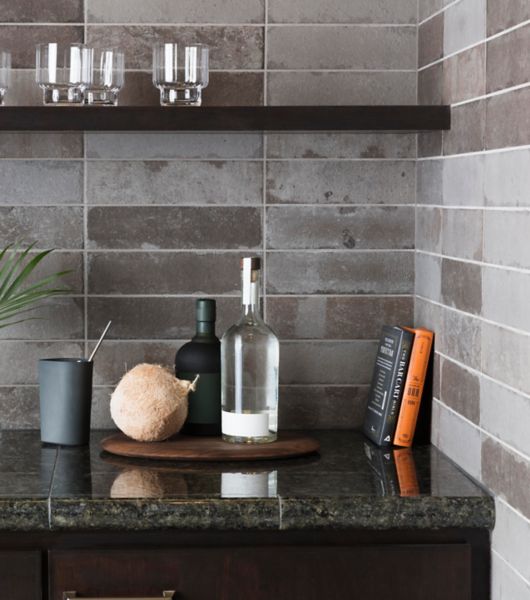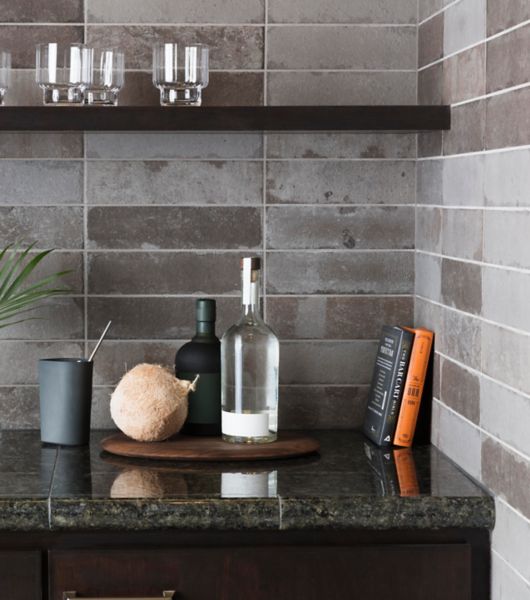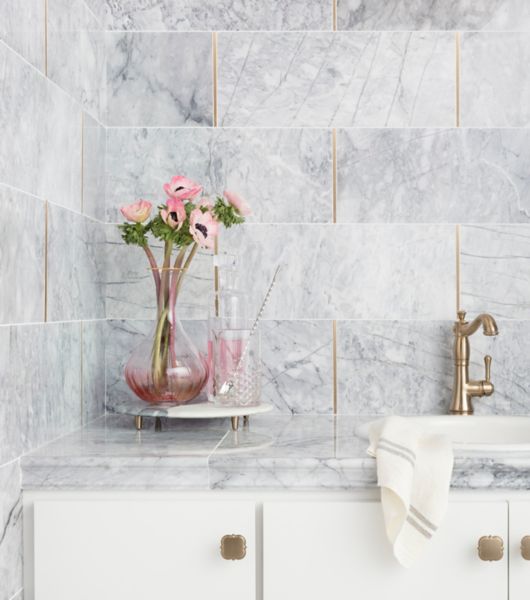 Available in glass, stone, ceramic, granite, marble, porcelain, encaustic cement and more, tile is one of the most versatile design elements of your decor. Each material creates a different look and has its own properties, so there is a perfect tile for everyone, every space and every project. Since your backsplash is an accent area, this is the perfect time to explore some of the more unique material options and really make it stand out.
Texture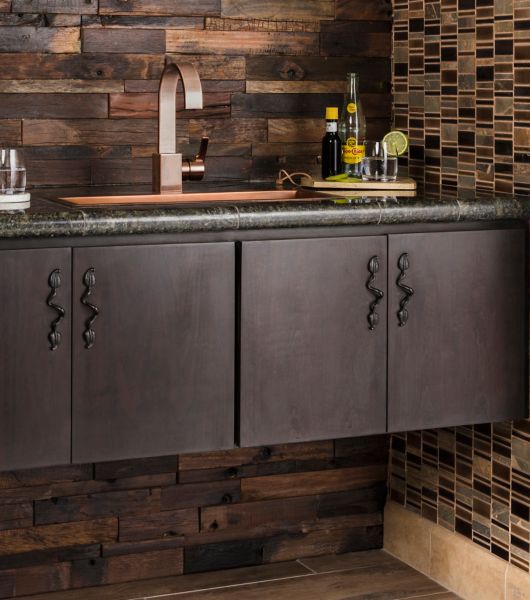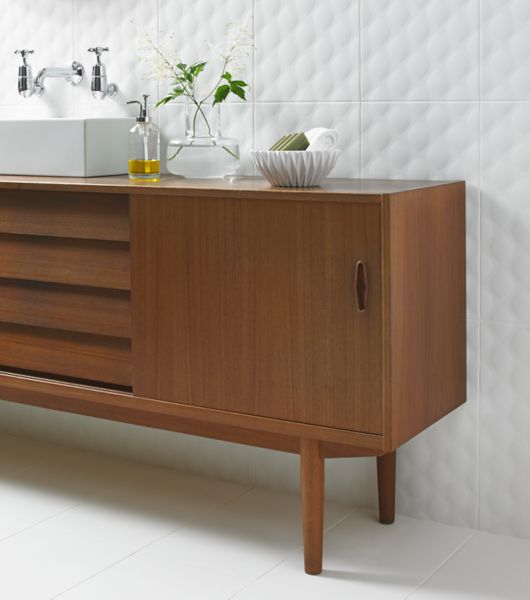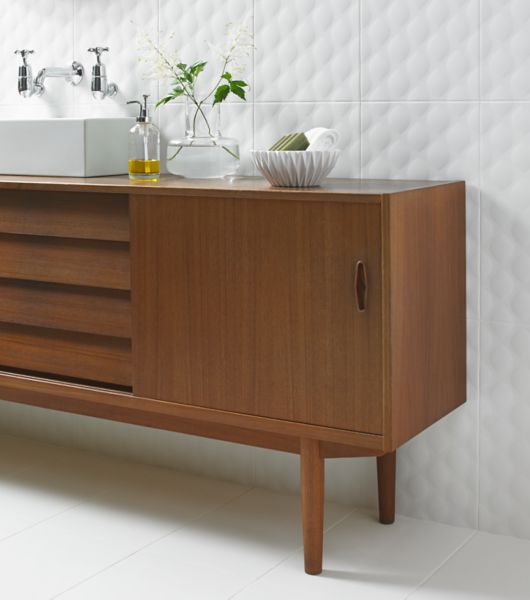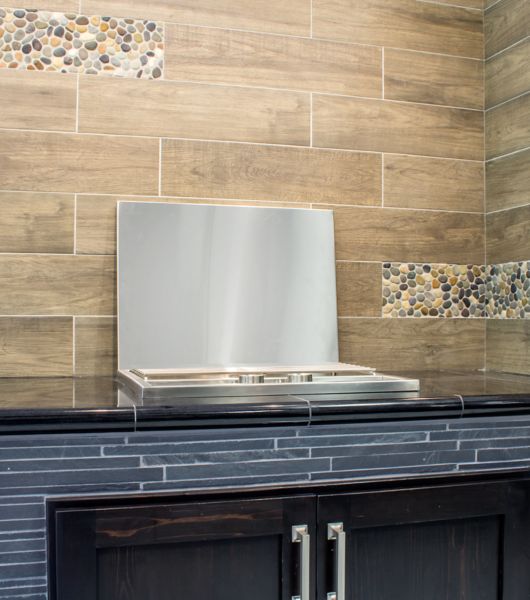 Nothing brings drama to a room like a textured backsplash. Add the illusion with patterned and faux-textured tiles or create depth with actual 3-D tiles. Think of 3-D tiles as an alternative to wallpaper that add pattern and color. Stone, mosaics, geometric ceramic or porcelain, faux-wood and pattern-printed tiles all serve to make your backsplash the stunning focal point of your kitchen.
Ask the Tile Experts
There are a number of reasons to install a backsplash in your home. A tile backsplash will protect your wall from moisture and stains in high-use areas of the home, like behind the kitchen and bathroom sinks. This means that cleaning will be easier, and your walls will be protected, lasting longer. And best of all, it's an opportunity to add style, color and interest to any room.

The thickness of tiles varies widely, ranging from approximately 7 mm up to 12 mm. Ceramic tiles tend to be the thinnest, generally ranging from 8 mm to 10 mm. 10 mm is the standard thickness for porcelain tiles. Natural stone tiles can be up to 12 mm thick.

Not all tile needs to be sealed. Ceramic or porcelain tiles likely won't need to be sealed. Stone tiles, on the other hand, usually do need to be sealed because their porous surfaces are more susceptible to retaining the things that come into contact with their surfaces. Always follow the manufacturer's instructions. Your grout should be sealed for the same reason—if unsealed, its surface is more likely to absorb spills and stains. Grout will last longer and be easier to clean when it is sealed. Some grouts sold at The Tile Shop have sealers built into them to save you a step, so always refer to the instructions to confirm whether or not you need to seal your tile and grout.

The cleaning procedure for each tile depends on its style and material. The important thing to remember is that, if tile is maintained properly, it should be easy to clean. Porcelain is usually the easiest type of tile to care for. Natural stone is the most sensitive to harsh cleaners so special care should be taken.

Tiles that are properly installed and maintained should not stain easily. Ceramic and porcelain tiles are the most stain resistant which is why they can sometimes be left unsealed. Natural stone tiles have a more porous surface which is why sealing is usually recommended. Once stone tiles and grout are sealed, they are much less likely to stain and are easier to clean and care for.

This is where your personal style and taste come into play. You can choose to coordinate your tile with your cabinets and countertops or you can choose to contrast them. Your backsplash can be the attention-getting centerpiece of your room or it can be subtler to let other design elements shine. The key is not having too many focal points in a room at once. Prioritize your favorite elements and let the rest serve to make those elements look good. If you choose to feature your backsplash, the sky's the limit. Unique colors, materials and shapes can all be utilized here.

Absolutely! This is the place to experiment and have fun. We encourage you to mix materials to your heart's desire. And if you need help choosing, stop by one of our locations for expert design help.

A backsplash generally stretches from the countertop to underneath the cabinets vertically and to the edge of the countertop horizontally.

We do not recommend installing tile on top of any other materials and always suggest you start with a clean, blank wall or floor.

Just like you would tile around the toilet or sink in your bathroom, simply cut your tile to fit around electrical outlets in your backsplash. We recommend using The Tile Shop's Beast brand of tile saw to get a smooth cut every time. You can even get decorative switch plates to coordinate with your tile.