Porcelain vs. Ceramic Tile - The Best Comparison Resource
Wondering about the differences between porcelain and ceramic tile? We've got the best comparison resource. People often have questions in regards to pricing, durability, lifespan and use in certain spaces. In short: which is better, porcelain or ceramic tile? Though there are a few differences that can determine which space is the best to use these tiles, there is not one that is inherently better than the other. Read on for answers to specific questions that we get asked a lot, and always remember to find your product online or check with your local sales rep for more information. Looking for a helping hand in the design process? Schedule a free design consultation with one of our tile experts to make sure you get it just right.
Is one better for bathrooms and showers?
No, neither porcelain nor ceramic is inherently better than the other for bathrooms and showers. Simply check the tile's recommended applications to see if it will work for your intended use. If you prefer your toes toasty warm, either ceramic or porcelain are great options because both are rated for in-floor heating. For more information on your specific product, please check with a sales associate or a spec sheet online.
Differences in how they're made
Porcelain tile is made of finer clays and dust, meaning it is denser than ceramic. This makes porcelain tile suitable for outdoor use in all climates. See "What Are the Benefits of Porcelain Tile" below for more information on outdoor uses. Both porcelain and ceramic are kiln fired and then transformed into any desired style from wood look to stone and more.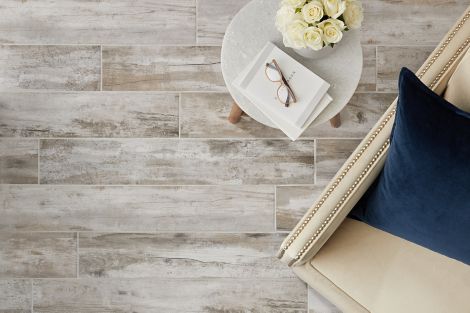 Wood-look floor tile is a combination of so many things we love—a classic look, easy-care properties and durability!
Cleaning & Maintenance
There is a myth that porcelain is less likely to absorb stains or scratches. We are here to inform you that this is not true. In fact, it all depends on the glaze. The water absorption rate of porcelain is lower, but this is not the only factor at play. Ultimately, the porousness of the glaze will determine the rate of stain absorption, not the underlying material. For more information on specific cleaning instructions, ask a sales associate.
Durability
There is a misconception that porcelain and ceramic tile vary in durability, but durability and overall lifespan actually depend on the glaze and installation of the tile. It does not necessarily matter if the tile is a porcelain or ceramic body. Unless you are considering tile for a commercial space, porcelain or ceramic tile should be fine. As always, be sure to check tile specifications before installing in your space. Tile is only as strong as its underlayment, and its true strength comes with installation. Neither type is inherently more durable than the other. Compared to a wood floor, both ceramic and porcelain tile are better, more durable choices for spaces with pets, kids and high-traffic areas. Browse our large selection of wood-look tile to fit your flooring needs and personal style.
You asked, we answered
Inherently, neither porcelain or ceramic is more expensive than the other. Price differences are mainly about the technology used in the manufacturing process and the design and style of the individual product. Ultimately, both materials are manufactured the same way. We recommend first determining what style or what tile fits your personality then choosing what works best for your space.

Ceramic and porcelain can both be used on the floor as long as the individual tile is floor rated. Check the product you are interested in on our website for more information, ask a sales associate or contact customer service.

One of the biggest distinguishing factors of porcelain tile is its density. The main benefit to using porcelain tile is the low water absorption rate, or its density, which means it absorbs water at a minute level. Because of this, porcelain can be used in exterior applications and in locations where freezing and thawing occur.

Subway tiles can be either porcelain or ceramic. Because subway tile is typically installed on walls, it is usually a wall-rated product which is typically ceramic.

Not all ceramic tile is approved for shower walls. Check with your sales associates for true specifications.
The Tile Shop offers various types of porcelain and ceramic tile to suit your wall or floor covering needs and personal style. The variety of shapes, designs and colors that these tiles come in are a big reason for their overall popularity and appeal. Ultimately, you should remember to shop for what tile best fits your personality and home design, and don't forget to confirm your use and space online or with a sales rep.
Still Have Questions About Tile?
We host Saturday morning workshops where we can answer any tile-related questions you have or talk with you about your project.
BACK TO TOP >
Other Education & Info articles: